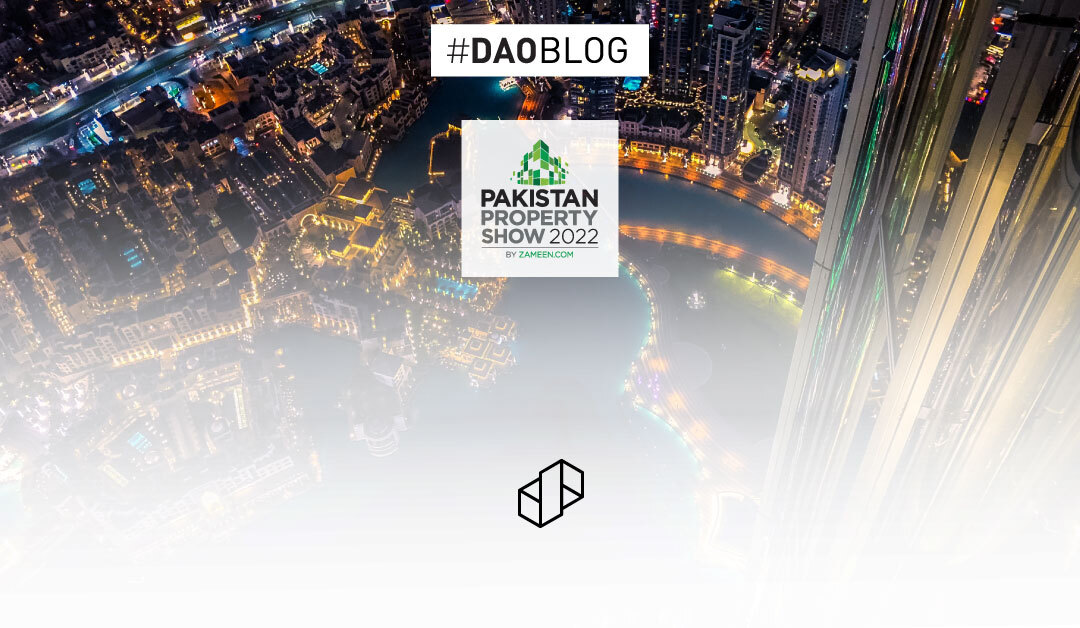 DAO PropTech at the Pakistan Property Show 2022 in Dubai
Making its first appearance at the annual Pakistan Property Show 2022 in Dubai, DAO PropTech, a Presidential award-winning platform, is all set to welcome those looking for transparent, flexible, and secure investment opportunities in Pakistan.
Organized by Zameen.com at the Dubai World Trade Centre from 10th to 11th September, DAO PropTech will showcase its 100% digital investment journey, flexible pricing mechanism, institutionally qualified projects, and award-winning platform for the first time ever.
Being the only true-to-the-heart PropTech firm at the show, DAO PropTech is ready to provide those interested with a taste of unparalleled innovation in the real estate market in Pakistan. DAO PropTech's revolutionary platform allows customers to generate 30%+ year-on-year ROI through developmental real estate and unmatched rental returns with mature real estate. With a data-backed and use-case-driven approach, whether you are looking for rental income, profit, possession, or savings, DAO PropTech has the solution.
Founded in 2020, the platform has over 7,000 sign-ups and nearly 500 active customers. With a mission to make real estate accessible for everyone, DAO PropTech at the Pakistan Property Show is not to be missed.
Date: 10th & 11th September 2022
Time: 10 AM till 8 PM
Location: Exhibition Hall 5 & 6, Main Concourse 2, Dubai World Trade Centre
So, how are security and transparency ensured?
DAO PropTech is the most powerful real estate platform in Pakistan. It is redefining the way you invest in real estate. It brings complete transparency to real estate transactions at all levels of your journey, providing you with the confidence and trust you need.
What makes DAO PropTech stand out from the rest?
Fully Transparent – The projects declare everything openly, be it project costs or legal affairs.

Scientific Pricing – No hidden charges; price calculations are based on actual project developmental costs.

Flexible Payments – Making real estate affordable and inclusive for everyone; start with 100 sq. ft.

Construction Visibility – Track each project's progress and measure it against the milestones.
Projects on our Platform
Elements Residencia
Elements Residencia is a mixed-use residential and commercial estate with state-of-the-art lifestyle amenities. Ideal for millennials, regular and workstation travelers, rent-seekers, and high-net-worth individuals, this 115 ft. high structure offer a grand dedicated entrance foyer, abundant indoor parking spaces, roof-top amenities such as a health center and swimming pool, executive coworking spaces, daycare, mini-hospital, and all essential living facilities. Elements Residencia is secured with 24/7 CCTV security and building management systems for your safety and peace of mind.
Urban Dwellings
Pakistan's first-ever earth scraper, Urban Dwellings, opens up a genre of private, shared, and communal spaces to enhance the perfect sense of family living. It's a lifestyle destination built for sustainability. It is improving your living standards with an endless supply of green spaces, commercial amenities, and sporting and recreational facilities under one roof.
Broad Peak Realty
A high-class coworking space, Broad Peak Realty is a well-thought-out space design aiming to provide a safe and comfortable environment with state-of-the-art amenities. It is a commercial project seeking to meet the growing demand for coworking spaces in Pakistan with a unique and tech-enabled environment.
Amna Homes
Situated in the DHA Bahawalpur, Amna Homes offers 6, 9, and 12 marla modern constructed villas. From the bottom up, every aspect of the villas has been carefully designed to maximize your comfort. With all necessary amenities such as gas, water, underground electricity, and a sewage system, Amna Homes is situated at a stellar location, only minutes away from the airport and city center.
Akron (leased by Daftarkhwan)
A minute's walk away from the Bahria Town Phase 7 & DHA 1 junction, this project is the first coworking space in the vicinity. It has been leased to Daftarkhwan long-term and is fully operational. This in-demand pre-rented office space is ideal for those looking to generate immediate rental returns.
Qubed Nathiagali
Pakistan's first revolutionary tourism venture, Qubed, reimagines containers in a fun and innovative way to provide an unforgettable lodging experience for travelers. This sustainably crafted and architecturally transformed destination reimagines ecotourism as a whole. Futuristic, digitally savvy, and welcoming, prefabricated resorts provide the most desirable tourist accommodation solution accompanied by multiple other benefits.
Choose your investment type
Buy to Sell – his plan is designed for those interested in capital gains and profit maximization. This plan maximizes gains when you sell your area, whether you pay upfront and avail huge discounts or buy in installments.

Buy to Own – this is ideal for customers looking to own a place. Get ownership of your property with a flexible payment solution, or pay in advance and get maximum discounts.

Buy to Earn – Make your money and make more money! Do you have funds lying around not earning you enough income? The Buy to Earn plan allows you to invest in a property and earn halal income with complete control and above-market returns.

Buy to Save – Savings that grow over time are the best hedge against inflation and currency devaluation. You can now use your monthly savings to start owning premium real estate. As the property appreciates, so do your savings.
Where can you find us?
Visit DAO PropTech's stall 'G+4' on the third right from the Main Hall Entrance. Our wealth consultants will be available to assist you from 10 AM till 8 PM from 10th to 11th September 2022.
If you're not available, feel free to reach out to us, and we will ensure to help you even if you are unavailable on the aforementioned dates.
To avoid excessive queues, book a meeting in advance, now!
We look forward to welcoming you.

Ahmad Mahmood Chouhan
Communications and Activations Specialist