We're Pakistan's 1st digital real estate investment platform
Start investing flexibly, wherever you are in the world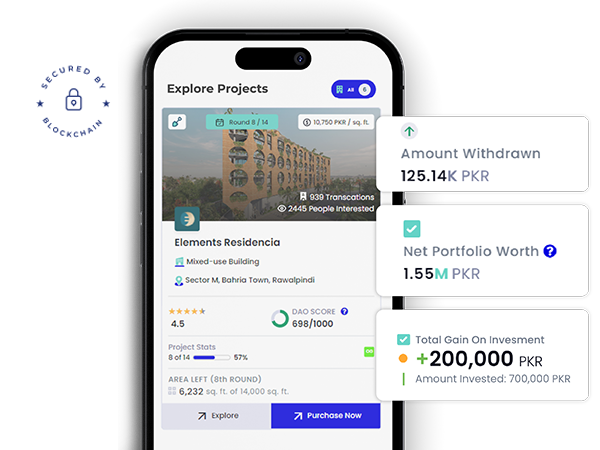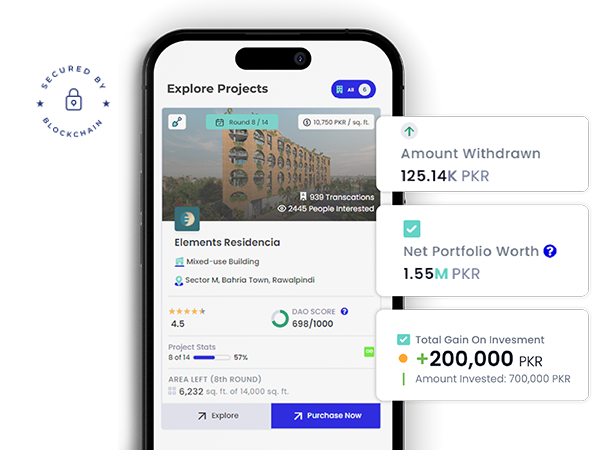 Verified Projects
Handpicked and institutionally qualified using a 30+ factor scoring matrix
Backed by Blockchain
Secure and transparent; making it easier to track and verify your transactions
Value-based Pricing
Invest at transparently declared price; there are no hidden charges or hefty premiums
Personalized Plans
What's your goal? Profit, Possession, Income or Saving – we've it covered
We enable real estate investments for everyone – Browse all
qualified projects in one place
1. Sign Up
Explore real estate projects that meet your investment criteria
2. Invest
Build your real estate portfolio from a low initial investment and keep accumulating
3. Check Progress
Keep a track of your investments through your personal dashboard
WHY DAO PROPTECH?
The innovative way for
everyone to profit from
real estate investments
Using the power of technology to provide diversified property options for everyone
✅ Award-winning Platform

✅ 100% secure

✅ Data-driven project selection

✅ Easier liquidity
✅No middle-man


✅ Flexible payment options

✅ Indicative future pricing


✅ Digital portfolio management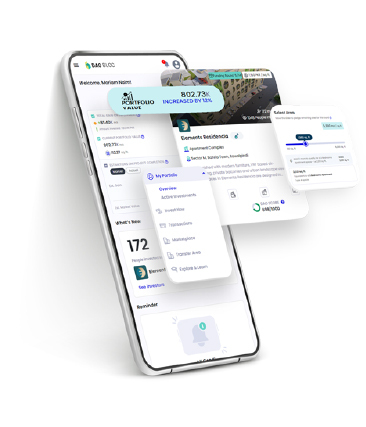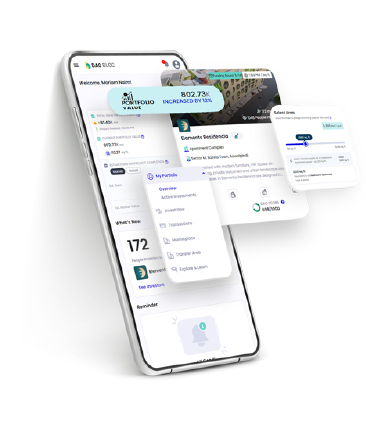 Sounds unreal? Listen to what our loyal investors have to say about their journey with us.

Arsalan Mubashir Khan
Software Engineer
Elements Residencia was the optimal option of investment for me. Progress, timelines, and profits from the project are completely transparent. The timelines and estimations have been completed on point and continuous updates were provided. I have gained a 26.7% gain on the investment I made one year ago. My experience has been amazing with them and this is the safest investment out there.

Naveed Ur Rehman
Software Engineer
I liked the location of Urban Dwellings. The past, present, and future rates are defined, so it's a good model. What prompted me to invest in this was the level of transparency. Their online presence, portals, dashboard, and periodic update almost every two weeks are outstanding.

M. Muneeb Anjum
Real Estate Agent
I invested via DAO PropTech because I like their model, portal system, and investments rates were far better than others. My friends and clients have also invested via DAO PropTech on my recommendation and are very satisfied with the service.

Kaleem Barlas
Ex-Executive Director ADBP and Professor
Due to inflation, the value of your pension and savings decrease over time. I collected all my savings and invested them via DAO PropTech, and now I am getting regular income. The best part is I don't have to get in a queue to get my returns. Through technology they have removed corruption from the system and created convenience for me.

Minahil Khan
Lawyer
I ditched the committee route and invested with DAO PropTech. I would highly recommend DAO to my inner and outer circle, especially housewives because it lets you save your money in a very transparent manner.

Kashif Aslam
Business Owner
I am excited that DAO PropTech has embraced latest technology to bring complete transparency to the Real Estate sector of Pakistan.

Sami Uddin Ahmad
Telenor (Sweden)
As an ex-pat, it was difficult for me to invest in real estate in Pakistan. This is the only digital platform that is transparent, and where I can invest from anywhere around the globe. The best part is that I can track and modify my investments all along.

Dilawar Hameed
Restaurant Owner
My investment process with DAO PropTech has been very smooth because of the completely transparent processes and liquidity flexibility that DAO offers.

Junaid Shafi
Daily Wager
Since I learned that customers with as low as PKR 10,000 can also invest with DAO PropTech, I invested my life savings and ditched the traditional #committee route. The earnings are halal and returns are high compared to conventional banks.

Usama Ibrar
Entrepreneur
As a businessman, if you want to expand and diversify your business, it gets tricky and time is always of the essence. DAO PropTech made me a partner and provided me with a diversified line of business with an excellent growth rate.

Raja Zamurd
Cash & Carry Owner
I had retirement savings and wanted to invest in real estate. DAO PropTech made me a partner and as the project goes through development stages, my investment will equally grow. I have seen the team's previous projects and have full faith.
Join the thousands of people
paving their way to financial
freedom
Empowered by data insights, cutting-edge technology, and a
digital platform, take control of your investment needs
576,003
No. of sq. ft. sold to date






Join the digital real estate revolution
We're a multiple award-winning platform